This is an Old tool which has been replaced by SmartGantt. See our post: http://www.podiohelp.com/smartgantt-gantt-chart-build-for-podio/ 
Visualize your Deliverables or Projects
Do you know that you can have your deliverables visualized in Gantt for Podio? Every month thousands of people use the Gantt for Podio to help overview and track their teams projects, deliverables, resources or other activities from Podio.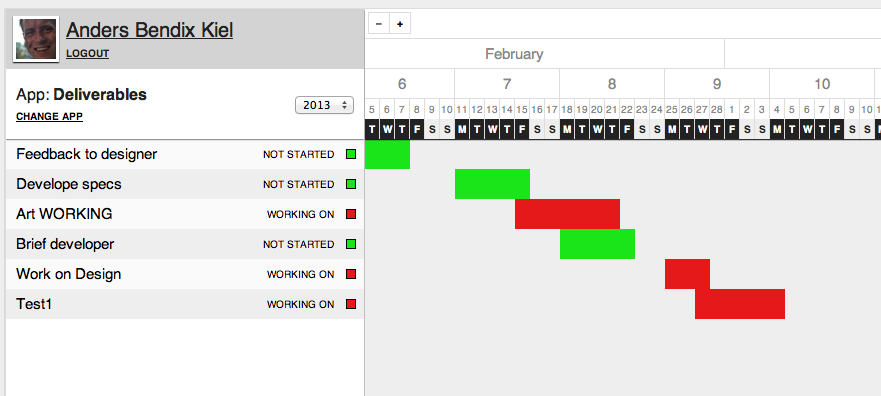 What is Gantt for Podio?
Gantt for Podio is a free tool that integrates with your Podio app. It lets you visualize you and your teams deliverables or projects and gives a great overview.
Inside Podio you have several ways of visualizing and keeping track of your projects. You can for example use the badge view, the table view or the card view, however after talking with a great amount of project managers we found that there was a big demand for a Gantt BendixKiel developed the Gantt for Podio.
What is a Gantt chart?
A Gantt chart is a bar chart that typically illustrates deliverables or projects. The Gantt chart is a common technique for representing phases and activities of projects. Project managers often use Gantt charts. A common critique of Gantt charts is the lack of information. This has changed with the combination of Gantt and Podio. In Gantt for Podio we have given you easy access to all details about each item inside Podio directly from the Gantt chart.
How do I get started?
Go to Gantt for Podio, press the login button and grant access to your Podio account. Now select the app you want to generate a Gantt chart for, and then map the blocks. All the blocks are required so you need to map all blocks. Thus every 'Gantt for Podio' block needs to be mapped with a Podio "building block" from the app you want to generate the Gantt chart for.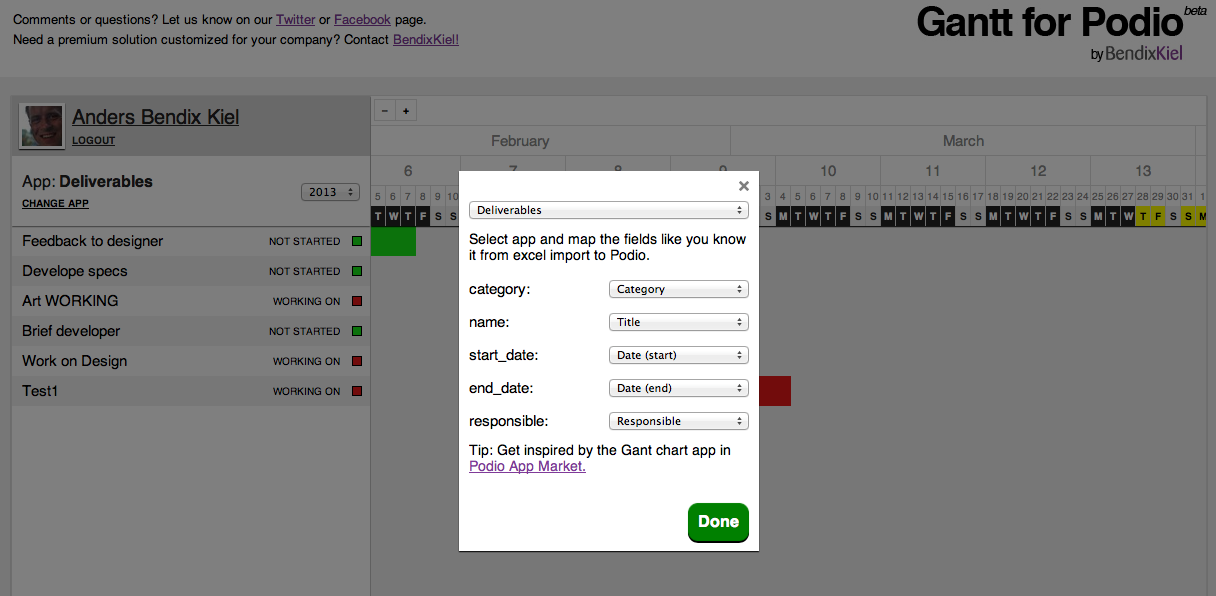 What is a Gantt for Podio block?
Gantt for Podio can be connected to any Podio app you wish, as long as it has the required building blocks.
'Category' should be mapped with a Category block (NB. It does not support multiple choice category blocks) from Podio app. Map 'name' with a text block, 'start_date' and 'end_date' with date block and 'responsible' with either a contact block or an app-reference block.When the blocks are mapped and you click "Done", a Gantt chart for your app of choice will be generated.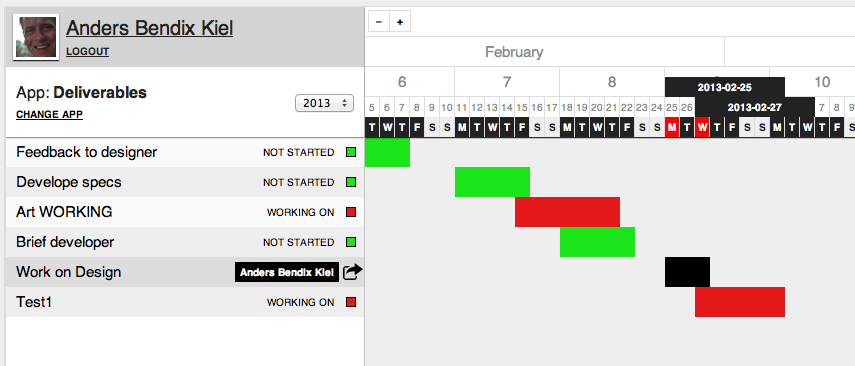 Now your Podio Items are visualized in a Gantt Chart
The Gantt for Podio shows you the basics. In the left column you can see the name and category of the items. In the chart you will see the start and end date marked with a colored area – just like you know it from every other Gantt chart.
If you hold the cursor over an item, you will be able to see who is responsible for that specific item and if you click on the box with the arrow-icon, you are sent directly to the item in your Podio workspace. This makes editing easy. All changes to an item are pushed real-time to Gantt for Podio.
Make your workflow even more efficient
Every Gantt chart has a unique URL. This makes it easier to share with the rest of your team. We recommend that you copy this URL into a link widget on your Podio app. This way the whole team can access your Gantt chart and you will always have easy access directly from inside Podio.
Use Gantt for Podio for Free. Visit Gantt for Podio today!
Already using Gantt for Podio?
If you are already a user of Gantt for Podio we would like to here how you use it and what you think about the tool! Feel free to share your experience in the comments.